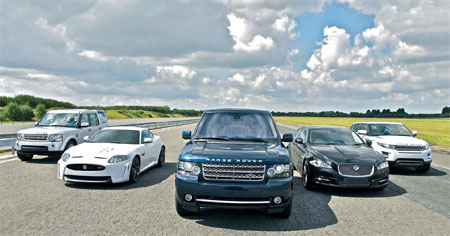 Jaguar Land Rover has expanded its lineup in China and introduced models tailored to local consumer tastes.
Jaguar Land Rover (JLR) China sales exceeded 42,000 units for the first time in 2011 as it equaled, then surpassed, its previous sales record in just the first nine months of the year.
The company has registered exponential growth in deliveries since first entering the China market, when only a few hundred vehicles were sold.
Surpassing its 2011 target for exports to China of 40,000 vehicles, the auto company also made a significant contribution to Sino-UK economic and trade cooperation.
Its final tally of 42,063 vehicles represents growth of 61 percent over 2010, outperforming the overall average in the China luxury auto sector.
Jaguar set a single-month high with 945 cars sold in December alone.
Land Rover delivered 36,087 vehicles last year, a 54 percent sales increase over 2010.
Commitment to China
"JLR China's strategy and investments have led to breakthrough growth and have established us as one of the leading luxury car manufacturers in this market," said Bob Grace, the company's president.
"Building on our momentum, we will continue to pursue strong and steady growth and fulfill our long-term commitment to China. In this endeavor, we will provide our customers with more value and strive to contribute to an even more prosperous and sustainable auto industry in China."
With vehicles specifically developed to meet Chinese consumer "wishes and needs," Grace highlighted the XJ 3.0 developed for the new generation Chinese business elites.
With cutting-edge designs and luxurious comfort, the model was responsible for almost half of Jaguar's sales, rising about fivefold over 2010.
With its first 12MY model off the production line already sent to its Chinese owner and performing nearly on par with the XJ in the market, the newly-launched XF model, equipped with a dramatically-new design and full upgrade options, further underscores the brand's dedication to Chinese customers.
The Range Rover Evoque won the award for most anticipated model of the year due to its higher engine efficiency, cutting-edge design and tailored features.
The smallest, lightest and most fuel-efficient Land Rover ever produced, it received more than 8,500 pre-orders in six months and won nearly 30 prestigious auto awards by the end of the year.
The Range Rover Autobiography Ultimate Edition and Freelander Christmas/New Years Limited Edition stood out among other special edition products, demonstrating the company's engineering prowess and affirming it's a commitment to offer exclusive luxury specials for Chinese consumers.
Customer relations
JLR has expanded its infrastructure while exploring customer-friendly and innovative approaches in the market.
The auto manufacturer has now signed up 113 authorized dealers across the country, while new training academies, distribution channels and collaboration with leading auto companies have contributed to greater operational efficiency and customer satisfaction.
As a trendsetter in the emerging markets, the company created unique marketing campaigns in projects like the "Evoque Effect" miniseries movies and Range Rover Evoque test drive, the biggest in Asia. Getting closer to its consumers and taking the lead in community-wide efforts are essential to JLR's global development.
Protecting the environment, fostering local talent and giving back to the community, JLR has leveraged its expertise and brought substantial resources to China.
The auto manufacturer's projects include a CO2 offset program whose contributions in China over the past year were valued at more than 24 million yuan.
JLR's first school-enterprise partnership in China - the Apprentice Training Program - has fostered development of highly skilled local auto industry talent. Partnering with other organizations, JLR offers care to disadvantaged groups through donations to cleft-lipped children and to AIDS prevention programs.
Source:
China Daily