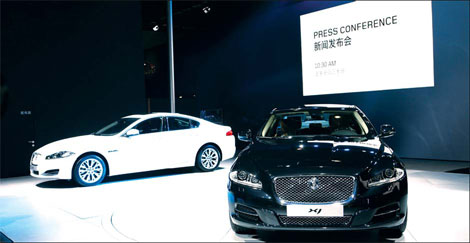 Jaguar XF (Left) and Jaguar XJ at 2011 Guangzhou Auto Show
Among the shiny nameplates that brought their latest and best products to allure local customers is British luxury car manufacturer Jaguar.
Jaguar reported a 91 percent surge in China sales in the first 10 months this year as it delivered 4,400 cars. As a niche brand, those four digits already make China its third-biggest market globally after the US and the UK.
But the company's management is not satisfied - they aim for long-term, sustainable growth in the lucrative market.
In the view of Anthony Bradbury, the newly appointed executive vice-president of Jaguar China, the auto legend has great products, so the imperative now is to develop broader brand awareness in the country.
An Oxford University graduate with major in music - yet fascinated by the car business - Bradbury joined Jaguar Land Rover in 1998 and has led in several key projects in marketing and communications. He stepped up to the new position in China just five months ago.
"We are still not as well-known as some of our competitors,"
he said.
"That's why one of my priorities is to work on building the brand."
"What we find is when people know enough about Jaguar, when they come to our showroom, see our cars, sit in them, touch and feel the luxury, drive them, they will often buy. But not enough people yet know about Jaguar.
"This is probably the biggest challenge,"
Bradbury said, noting that the company will continue to build awareness of the brand so luxury consumers put Jaguar on their shopping list.
In an effort to take the "authentic British brand" to more Chinese cities and closer to local customers, the company has been working hard in expanding dealerships, mostly in big and medium-sized cities.
Together with Land Rover, Jaguar now has about 80 dealer outlets in China, and the figure is about to exceed 100 as the contract for its 100th dealership in the country was signed recently.
Bradbury said that in the southern market alone, Jaguar's dealerships will grow by 50 percent in fiscal year 2011 that ends in March 2012.
Tailored model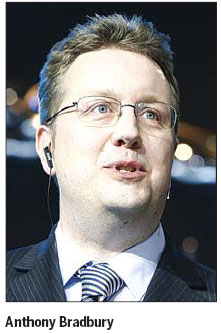 In addition to dealership expansion, tailored models are also driving sales in China, Bradbury said.
The company currently imports the XF mid-sized executive sedan, the XJ full-sized saloon and the XKR high-performance sports car to China.
The XF contributed the biggest sales until April this year, when Jaguar launched the new XJ equipped with a 3-liter engine at Shanghai auto show. Previously the XJ was only available in China with a 5-liter power plant.
"That is a car that started our tailored-for-China product strategy,"
Bradbury said.
"It has an engine and suspension that are tuned and refined to carefully match Chinese consumer requirements."
Sales of the 3.0-liter XJ jumped from the start. The company now sells almost the same numbers of XF and XJ models in China - a unique market structure for Jaguar worldwide.
"Probably at the end of this year we will be the biggest market for the XJ,"
Bradbury said.
That statement carried an element of uncertainty, but he said he is entirely sure that
"China will be the most important market for the XJ in the long term and the model will be the heart of the Jaguar brand in China"
.
Fewer XKR sports cars are sold in the country in comparison to the XF and XJ, as the luxury car market in China is still dominated by sedans and the sports car segment remains underdeveloped.
Still, sales of the model have quadrupled so far this year over the same period in 2010, according to Bradbury.
Bradbury said that as roads continue to improve and people have more understanding of sports cars, the models will become more popular in China.
The company has taken initiative to hold city tours and track days across the country to promote sports car culture and gather more fans.
Front of the queue
In company discussions about product allocation, China is always at the front of the queue, Bradbury said.
"We understand how important supporting China is as a sign of our long-term investment here."
Despite increasing competition, he is convinced that Jaguar is well placed to ride the strong growth in China's luxury car market, which continues to outpace the overall market.
Bradbury said his confidence in the brand comes from its unique nature.
"We are not a me-too brand - we are a brand with rich British heritage, with an understated style, with elegance and nobility."
"We'd like to say at Jaguar that we are a breed apart,"
Bradbury said, noting the importance of maintaining its differentiation in the marketplace.
"Hopefully this more individual positioning will give us a strength. So as the market become more competitive, we will always stand to be something that is a little bit different, a little bit more desirable."
But Bradbury declined to give a sales target for the brand in China next year.
"We tend to not discuss future sales targets only because if you do, whatever the number, it won't be precisely right."
"We want to continue to grow,"
he went on to say,
"but it is not just about selling more cars, it is really important that we grow in a way that is sustainable and ensure the right infrastructure is in place to serve customers."
Source:
China Daily