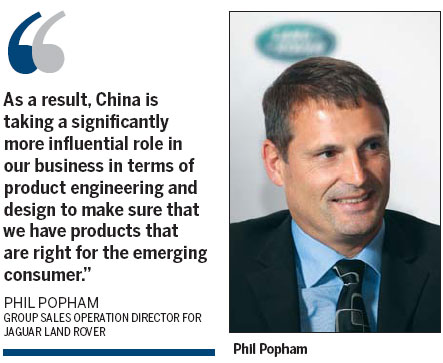 With its large population and increasing wealth, China is the top market for many foreign companies today - a lineup British carmaker Jaguar Land Rover is about to join.
Phil Popham, group sales operation director for the company, said in a recent interview at its China headquarters in Shanghai that he expects "in the not-too-distant future" China will be the automaker's No 1 market.
"As a result, China is taking a significantly more influential role in our business in terms of product engineering and design to make sure that we have products that are right for the emerging consumer," he said.
The company, owned by India's Tata Motors, delivered about 32,143 vehicles -27,761 Land Rovers and 4,382 Jaguars - in China in the first 10 months this year, up 60 percent over the same period of 2010.
Combined sales of the two brands are expected to hit 40,000 units by the end of the year, said Bob Grace, president of Jaguar Land Rover China.
Grace declined to forecast sales figures for 2012, but said that he expects to see "significant growth".
The upcoming Range Rover Evoque, or Jiguang in Chinese, will give a massive boost to sales volume next year, he added.
The smallest and most fuel-efficient Range Rover model, the Jiguang will hit the market next week. After pre-sales began in April in Shanghai, about 7,000 orders for the model have been received, according to the company.
Instead of relying on a single product, Grace said that Jaguar Land Rover will bring in quite a number of interesting new variants to capture the attention of consumers next year.
"There will be cars that will be tailored to the Chinese market more than they are today," he said, but added the plan has to stay a secret at the moment.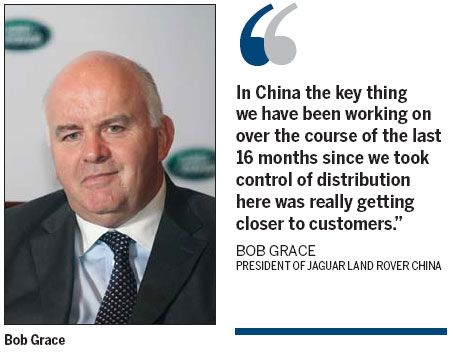 Coming out of a global recession that hit the car market hard, Jaguar Land Rover is now profitable and reinvesting every single pound it earns back into the future of its business, Popham said.
The automaker announced earlier this year that it will invest 1.5 billion pounds ($2.4 billion) every year from 2011 to 2015 to roll out 40 new and revamped products globally.
But the company is not just investing in products - it is investing in infrastructure all over the world, Popham said, noting that Jaguar Land Rover now sells in 177 countries and regions.
Heavy investment is also pouring into China. Grace said that a new training academy will open in western China early next year following the two existing academies in Beijing and Shanghai.
Another parts distribution center, its fifth, will be set up next year. It already has warehouses in Beijing, Shanghai, Guangzhou and Suzhou.
Its dealership expansion has also been rapid.
"In China the key thing we have been working on over the course of the last 16 months since we took control of distribution here was really getting closer to customers," said Bob Grace.
Before the automaker set up a national sales company to manage its China import channel and dealerships, it had some 40 outlets. Today it has 80 in operation.
"We built that network with very strong input from Chinese partners," Grace said, adding that its 100th dealership in the country had been appointed in Zhengzhou, capital of the central province Henan.
China's luxury vehicle market has been in the fast lane for the past two years and the momentum continued this year.
German automakers Audi, BMW and Mercedes-Benz, which have local production in the country, have benefited most from the growing demand and taken a majority of the market.
And they are all building more capacity at their local facilities to meet the increasing demand, which is expected to continue for the next couple of years.
Analysts generally believe that local production gives luxury manufacturers an advantage in price competition because imported vehicles are heavily taxed in China.
Jaguar Land Rover is still awaiting government approval to set up a joint venture in China with a local automaker, which Popham described as a "long-term, complex" process.
While some customers think locally produced vehicles do not have the same quality as imports, Popham noted that Jaguar Land Rover "will be absolutely stringent in terms of standards to ensure that a vehicle built here, the UK or anywhere else in the world is consistent and meets the expectation of customers in their perception of our brand."
Earlier this year Jaguar Land Rover opened an assembly plant in India, its first factory outside the UK.
Source:
China Daily